Nick Teti, Mister Photon Media provides Colorado location sound mixer/sound recordist services, gear, camera support including Denver & ANY other CO areas
(720) 299-2084
Need a veteran sound man with experience dating decades in video, television & film production? Since 1990. Call on me for a sound guy anywhere in the state of Colorado, including the large areas like Denver, Colorado Springs, Boulder, Fort Collins, The Rocky Mountains; from north to south, east to west as a dependable sound guy with gear that has and can travel globally. Aside from location sound I can refer other production people to you such as gaffer, DIT, grips, data manager, AC/assistant camera, operation or other needs if the scale of your production needs more assistance. I provide these services with several audio gear packages, as well camera support equipment packages when clients need more than an experienced sound guy, that is also well versed in other aspects of field production, (as well studio & post sound too). If you want a sound man whom will take your shoot as utmost, then I'm your sound guy to count on on location. I have years of references on my sound mixing / recording to film, as well, for video and television production.
 Location Sound is My Specialty? YES
And I can help with other production tasks as well, or provide additional gear resources in Colorado too including other production personnel/crew members. After this amount of time in production, I am also veteran at providing camera support like operation, gaffer, data management, AC/assistant camera (first AC including camera builds, lens measuring, paint including matching, menus and other support), lighting, rigging along to help. If you need a sound man with reputable sound gear, along with camera support gear as a local in Colorado, consider me to be that sound guy in several areas. All these skills started professionally back in 1990. But when you just need problem free location sound to your cameras or to a digital recording, I have been doing this professionally for several years (for 2+ decades with several references).  So if you need a local sound person whom can also help with heavy lifting, assisting with lighting or camera set ups, in addition to providing the best location sound, you've called the right sound guy, Nick Teti, (720) 299-2084.
A few Production Samples,
Playlist with Categories
Here's a playlist (60+ videos) that you can skip forwards and backwards through on some various productions, but is by no means complete in my work history, but you will get the idea of my expertise in video, film and television production. Close the YouTube ads by clicking the "x" on the ad (when you stop or pause the playlist).
So if you're seeking a sound person outside Denver CO?  I'm a local in other Colorado areas, cities & towns or can travel where needed as I like working like the major production areas including Colorado Springs, Boulder, Fort Collins, Denver Metro, Vail, many popular Rocky Mountain areas or where needed in the state. Call me also to provide with the best possible audio equipment, as well, ample experience, as well the enthusiasm, I'm a great fit for your production of any type. Along with my gear, work experience, as well production credits, For video, film or television production; these include:
Location sound man, guy or engineer services (all common synonyms for sound recordists' in video or television production). The gear is all mobile to the scale of the production's needs.
Audio tech services for video or film, television productions including corporate video, features, or specific television program either engineering in the studio or on location operations.
Camera crew members referred along with equipment with specific program experience (friends whom I have worked with whom I would refer without hesitation).
Location scouting, including audio evaluation or for lighting & grip, or RF scanning for wireless or other production support.
Expertise in ENG, EFP, all types of film, television, documentary, sports, concert, reality TV/factual entertainment, commercials, advertising, feature films, business video, among other skills/backgrounds for all type of video, television or film specific production.
Audio sweetening, cleaning, restoration, among other post production.
Studio mixing, and I have experience in this as well location sound mixing
Satellite / production truck sound mixing.
Sound effects recording, foley services and audio sweetening, as well as similar services.
Time code sync sound or sync to all types of capable cameras, even DSLR or film based cameras or video cameras via clap slates or time code ports or audio ports. I can sync or show you how to sync non time code enabled sources.
Digital audio recording for all types of media, but specializing in film, video or television production.
Production equipment rental in lighting, grip or other camera support.
Larger sound crew support such as for feature film production, multiple sound people referred like a sound recordist or engineer, boom operator, or utility or other sound assistance for larger scale film, video or television production or to form additional camera crews.
Aside from location sound, I can refer area specific personnel referred to you in particular CO USA areas including other sound people or other production expertise referring people that I have worked with. Or other camera support in my skills or referring others outside my expertise to make a larger camera crew, film, ENG, EFP, television or corporate video crew. Or multi-tasking my skills to keep your crew efficient in sound, lighting and other camera support.
Nick Teti:, Mister Photon Media SPEED TV / SPEED Channel Shoot in Boulder Colorado: providing gaffer & gear rental resources.[/caption]
Industry standard preferred audio gear for film, video, television production
Aside from these services I use several location and post production sound equipment resources to meet the needs of specific clients, from videogaphers, directors of photography, camera crews, producers, networks, businesses, agencies among others. This gear includes:
CAMERA SPECIFIC CABLES & Connectors: Including time code connections as well specific audio input cables like 4 pin or 5 pin Lemo, and of course BNC. I also have specific wired cables for specific and a variety of cameras. My cables for audio and time code can match specific wiring to relay time code, such as for Arri or RED cameras that have slightly differing cable wiring. As well I have the experience with sound and set up with these cameras into the menus.
Lectrosonics & Sennheiser wireless lavalieres.
Countryman microphone heads, and other specific microphones for wireless.
Sennhesier, Scheops & Nuemann shotgun microphones with K-tek boom poles, and wind jammers/blimps.
Sound Devices 664 & Petrol audio bag.
Sound Devices 552 & Petrol audio bag.
Tascam HS-P82 10 track Mixer & Recorder with with audio bag.
Tascam 2 track M3 & WAV Recorder.
Breakaway cables, XLR cables, BNC cables + camera specific cables (RED, Arri, XLR, DSLR among other cables for specific make/model cameras).
Tentacle lock-it boxes.
Clap Slates & Time Code Slates for film, DSLR or video production.
SoundTrack Pro, Sound Forge, Pro Tools, Final Cut Studio, among other audio & video editing tools.
MacBook Pro for sound reports, file conversion, sound editing, file transfers.
Adobe Audition, Sound Track Pro, Adobe Premiere, FCP X and other audio & post production applications.
Sound Devices WavAgent software for sound reports or to convert audio files for you.
Other equipment resources.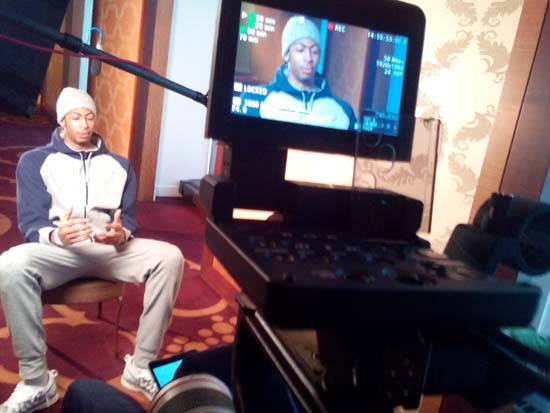 Additional camera support services,
past a sound guy
Aside from providing top location sound services I'm also expert at camera support roles that can help any shooter, crew, producer, network or other client; they include:
Assistant Camera / AC, aka a camera assistant/assist. So if you need someone whom can help mix the best sound, as well, help you with a camera build, I'm your Go-To Guy.
Camera, and setup experience with several cameras operating, as well in the capacity as a sound man along with the cables to ensure you'll get clean synced audio into or referenced to the camera you bring on your production. It's great to have someone whom knows more about the camera than just linking time code, as well sending tone reference, RIGHT? exactly. A sound recordist whom knows the menus, and everything needed to make the best sound recording. Consider working with a sound man like myself whom has worked with specific cameras before, knowing menus and the interface connection locations on your camera, as well having the connectors for both audio, and time code. And if your a videographer or director of photography or other camera person whom is lesser experienced in location sound mixing / recording, hiring a sound assistant like myself can save your shoot from disaster or poor audio that requires fixing later if at all it can.
Gaffer or Grip assistance with lighting gear & grip equipment, or just providing myself as a sound man.
Data Wrangler or Data Manager, with knowledge of camera file clip structures (MXF, P2, XAVC, AVCHD, RED or other packaged formats (Quicktime, Mp4, MPEG, etc),.
Just mixing sound and recording to camera, mixer/recorder or other devices with decades & decades experience by myself or directing a larger sound crew, such as engineer, boom operators or utility help.
Additional equipment referral / rental.
Crew members referred to you and other production support referred like gaffers, grips, data wrangler/managers, AC/assistant camera, camera operators among other friends whom I can refer to you.
Staying out of the way and just doing great location sound, or helping you with additional production help.
Production Capabilities + Experience across Colorado, and the Globe in Location Sound
I have the professional production experience in video, film, as well television dating to 1990 that started in the Denver CO television market, along with a professional personality, along with deep, diverse production experience meeting the needs of any client or assignment that have been developed over years. My credits span several countries; with both national and international experience as a sound man & production professional you're insured a well qualified freelance professional that will quickly integrate into your crew or production team. If you need a sound person based in a particular Colorado area I can assist you with a local sound person referral or someone as close as possible to a CO city, town or place or travel there at reasonable cost saving you larger costs of bringing a sound recordist from out of state or country into a Colorado area when you factor air fare, hotel, travel Per Diem, or other travel expenses.
Nick's Teti's sound mixing, & as a cameraman recording on ABC's reality TV show "The Bachelor," recorded in Dillon CO.
Proximity to Colorado's major production markets, Mister Photon Media, AKA, Nick
I can be to all the major metro areas local within minutes, much of the Colorado Rocky Mountain popular areas, central CO, among other places popular as your audio guy. These areas include:
Denver CO
Boulder Colorado
Colorado Springs
Black Forest
Fort Collins
Federal Heights Colorado
Aspen CO
Vail
Beaver Creek
Aurora CO
Littleton
Highands Ranch
Ken Caryl
Lone Tree Colorado
Centennial Colorado
Greenwood Village Colorado
Englewood CO
Edgewater CO
Sheridan Colorado
Parker
Castle Rock
Castle Pines
Glendale
Central City
Commerce City
Evergreen Colorado
Genesee Park
Bailey CO
Conifer Colorado
Thornton
Northglenn
Westminster Colorado
Arvada CO
Broomfield
Wheat Ridge
Lakewood CO
Lakeside
Golden Colorado
Lafayette
Louisville CO
Niwot
Black Hawk CO
Central City Colorado
Morrison
Winter Park
Breckenridge
Dillon
Silverthorne
Copper Mountain
Eldora
Loveland, (either the Ski area or northern Colorado)
Cripple Creek
 Among other areas, as well, any part of Colorado is reachable for production mixing & recording.
You can book me for sound recordist, boom operator, camera support, production support services, other crew member referral, including referral to other sound people (if multiple cities or areas), or other related production support, by calling me, Nick Teti at (720) 299-2084 for information rates or to book me.
Contacting me by telephone is fastest. My contact page has all options to reach me as well.   or Call or Text (720) 299-2084
I have production credits with several other networks nationally, as well outside the USA, aside from my extensive experience across Colorado. Some other networks in other countries that include my credits are: BBC UK, TV Asahi Japan, Mount Fuji TV Japan,  NHK, ARD / WRD German Television, Canal, National Geographic Latino, Univision, Australia ABC & 7 networks, EuroNews, NOS Eurovise, Al Jazeera, Sky News, CBC Canada, among several others globally, not to mention all of my US experience spans about every domestic network.
Go back to the top of this page
Contact: (720) 299-2084