Local location production Boulder & Colorado Sound Recordist, AKA, Sound Man or Sound Guy
(720) 299-2084
Count on me for the audio gear and as a reliable knowledgeable production location sound recordist in the city of Boulder CO or it's nearby areas like Broomfield, Golden, Arvada, Niwot, Longmont, Lafayette, Marshall, Superior, Jamestown, Louisville, Nederland, Gunbarrel, Eire, Estes Park, Eldorado Springs or any other part of the Colorado. I'll travel where your production is regardless if it's film, video or broadcast television, my experience covers all three. My professional sound mixing & recording background dates decades professionally with my larger production background in television production that started in 1990. For location sound I learned mixing and recording sound for production decades ago and since have mixed / recorded sound for video, film and all types of television productions. I also learned sound mixing for post production, as well, in studio applications, and still provide these services to clients. See it for yourself below, in my location sound expertise, as well my additional production skills by watching the demo video playlist directly below.
A Brief Summary on My Experience in Boulder, Colorado,
National and Globally
As a sound guy my freelance experience spans every type of cable & network television program, or advertisement, ENG, SNG, video productions and many types of film productions, as well, corporate video productions, among other uses in video or film productions.
Interviews of all types, including two or multiple-camera interviews.
Documentaries for feature film or television productions including entertainment or education or journalism, among other messages.
ENG video or EFP, SNG or live broadcasts from LiveU, Fujitsu, or other streaming device or satellite trucks.
All types of television programs from news to entertainment, current affairs, made for TV, sports, history, education, politics.
TV Commercials.
Infomercials for broadcast or for the internet.
Sports broadcast, interviews, documentaries, profiles, commercials, as well the Winter & Summer Olympics.
Web advertising or other social media type of video productions.
Training videos or educational or demonstration video production.
Feature film or independent film production or for commercials.
Sales or marketing videos.
Reality TV, aka Factual Entertainment.
Training, education, demonstration or motivation video productions.
Politics including political ads, ENG/news coverage, conventions etc,.
Specific message video productions to specific or larger audiences.
Company / corporate / business video production.
Work with several cameras from the major production manufacturers & popular makes.
Other types of productions for varied clients as a sound man with decades of experience.
Go back up to the top of this page.

Benefits in hiring a Boulder or Colorado area sound recordist on your camera crew
Clean sound mixing & recording enabling you as a camera person, director etc, to concentrate on your production responsibilities.
Location sound people can also help with lighting and sitting in for shots or assistance on set.
Location sound recordist's are essential for DSLR shoots or for other cameras like film cameras where the director of photography does not have the time for both cinematography & sound recording.
Sound recording for DSLR or proprietary interface video cameras requires external recording, as the common example; DSLR audio inputs are noisy, unbalanced and the cameras audio noise level is higher than cameras with balanced audio inputs or XLR inputs so recording or ISO track recording from a sound recordist is needed.
Specific camera experience, including as a sound recordist, as well AC or operator, as well specific cable connections like Lemo or non-XLR or non BNC type connections.
External recording of audio to digital files with or without time code by a sound recordist enables better audio than a camera mic, and time code sync recording can also serve as a backup if the camera is at fault
Sync sound enables a 35mm film the reliable audio recording with a time code reference to the film, and shooting with multiple cameras in several positions requires and sound recordist to back audio with time code
Location /production sound mixers like myself have interfaces for the higher end cameras with non XLR connections including RED, Alexa, Thomson, Vision etc. Some of the vision cameras have no audio inputs and rely foley on external audio recording
Post production audio editing, sweetening and cleaning is lessened and more often than not eliminated when you hire a qualified, experienced sound recordist that has the resources to mix and record clean audio on location
Rely on the expertise for all types of television programming production audio that many experienced audio people have
Hire an audio tech to operate a boom while you operate the camera, and the sound person can also mix & record other sources to the cameras. It's not possible to work the boom and camera simultaneously.
Go back up to the top of this page.
Why hire a local sound recordist for film production?
If you need to operate a camera and need someone else mix & record the sound, you need a sound recordist.
If you have more microphones or audio sources than your camera has inputs, you need a freelance sound person in an area that you don't already have one in.
If voices are dynamic and varied, and you need to concentrate on camera operation, call a sound man or woman.
Sound recordists' are always necessary to record sync sound on a film crew and many other video cameras.
When you're shooting hiring a sound recordist can concentrate on camera movement, exposure and other needed camera operations without having to worry about sound recording as a director of photography or videographer.
Hiring a sound man or woman on film productions enables management of audio files so you do not have to stop to manage & catalogue audio with interruptions.
Sound recordist's can be employed for foley, or other audio engineering tasks in post production and impact the quality & impact of the film to the audience.
Sound recordist work is just as important as the images the camera records, and bad or poor sound ruins a production, so hired a skilled sound man like me.
Hiring a larger sound crew in film or video production covering actors or other critical audio sources will eliminate ADR & costly post production fixes that can occur later.
Go back up to the top of this page.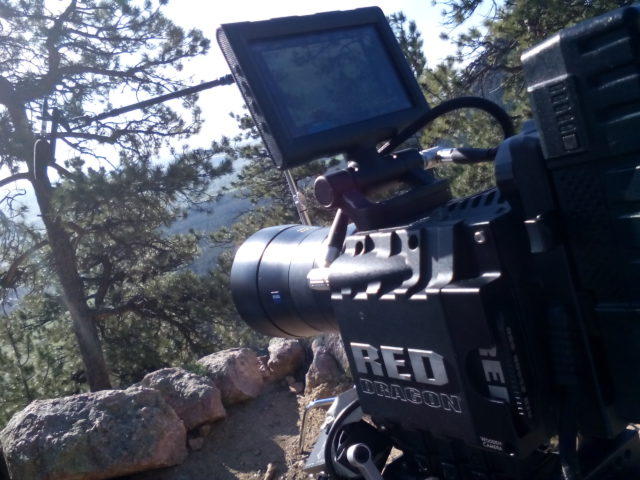 A broader production background to speed your production day
Because I have been a production professional since 1990, aside from my location sound services, I'm an editor, gaffer, camera person, camera assistant (first or second) and DIT. I can also wrangle data, capture & digitize & convert video for you on your shoot. I have a laptop with` Final Cut 7 or X, Davinci Resolve, and Premiere or Audition as well for audio or video data management. I also can provide PC based technology for those operating in Windows. I also use the software Audition & Soundtrack Pro frequently among other professional audio applications, as well Sound Devices Wav Agent software. Do I know location sound, and specialize in it, YES, with references.
I often sit in, assist with lighting, grip work providing assistance upon request as well. If you need advice, additional camera support gear, grip equipment, lighting rental, or other resources or crew referred.
I can also assist you with camera if I'm not to busy with audio as well with set up, data, lens changes or other tasks.
I have the resources as well for you here in Colorado, Boulder or its surrounding areas like Golden, Longmont, Arvada, Niwot, Broomfield, Louisville, Lafayette, Erie, Mashall, Superior, Eldorado Canyon, Nederland, Estes Park,

Eldorado Springs,

Westminster or where needed in the state.
Go back up to the top of this page.
Why me as your location sound or audio tech in Boulder Colorado?
Boulder is a medium sized city and I know most of it, along with it's surrounding areas and much of the state as I'm a Colorado native. I also have additional equipment and can bring lighting, grip, camera support gear among other pieces of equipment and can assist you as a camera person or crew with more than just audio when you need help with lighting, moving equipment, advice on locations or tips where to go to get good food or where to find other resources (most important). If you're not keen on the high cargo costs that airlines charge for traveling equipment, call on me to assist bringing additional lighting, grip equipment, tripods, monitors, stabilizers, or other gear so you can travel light.
Contact Nick, (720) 299-2084 for Boulder &
other Colorado Location Sound Recordist Services
email as second method:

Telephone is the fastest contact.
Boulder & Colorado Resources
Here are some resources for planning and support before or during your production for weather, hotels, travel and food.
Boulder Colorado Weather
Boulder Colorado Restaurants
Expedia Hotels
Travelocity Hotels
Arrange an Uber Driver
Google Map Links
Google Map Links of Boulder CO and it's nearby areas:
If you prefer HTML, please visit this website for information on my Boulder & Colorado location sound services.