Location Sound in Colorado's Mountains as well
For crews, camera people, producers, networks or production companies needing a dependable veteran sound man with gear, additional skills and gear resources, Nick / me of Mister Photon Media is a solution. I cover the major popular production areas as a sound recordist like Vail, Aspen, Snowmass Village, Breckenridge, Dillon, Beaver Creek, Avon, Dillon, Black Hawk, Central City, Golden, Boulder, Estes Park, Loveland, Arapahoe Basin/A Basin, Copper Mountain, Winter Park, Morrison, Elodora, Durango, Telluride and where you need in Colorado, call/text me for a rate at (720) 299-2084 or . If you need a sound guy with additional camera support equipment like lighting, grip gear or other camera support gear, I can be your go-to sound man as well. Be sure to call or text, as well send your email as I may be working the boom or other production gear when you call, but don't worry, I'll get back to you.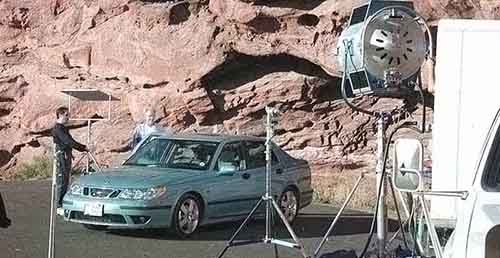 Sound Mixers & Recorders for Video, Television or Film
Sound Devices 552 Mixer Recorder
Sound Devices 664 Mixer Recorder
Tascam HS-P82 Mixer Recorder
PSC AlphaMix
Mackie 1404VLZ
Mackie 1202 VLZ
Additional Recorders
Marantz 660 – a digital flash recorder – records to PCM or MP3 formats. This can also be used to recorded time code format MP3 files or WAV format. This can be used as a primary or backup recorder, however the list above is a better choice for versatility.
Tascam DR100 Mark II – A very versatile portable & capable mixer for 2-4 track recording. I can record wav or MP3 format files with higher sampling rates, as well WAV, including with time code with adapters. This recorder can be used as a primary or backup recorder, however the list above is a better choice for versatility.
Go back up to the table of contents
Wireless Microphones / Lavalieres
Lectrosonics LMA/UCR 100 (2 pairs)
Lectrosonics UCR 211 (2 pairs)
Lectrosonics UCR 411a (2 pairs)
Lectrosonics UCR 411 MM series (2 pairs)
Lectrosonics SMa (2)
Wireless mic heads include: 4 Countryman B6, 4 Countryman B3, 4 Sony ECM 77, two Tram TR 50, and various Lectrosonics M150 & 152 heads
Sennheiser SKP 500 lavaliers (4 pairs)
Sennheiser SK 2000 lavaliers (2 pairs) (100 MW power)
Sennheiser EW G3 lavaliers (4 pairs)
Sennheiser AVX100 (2)
Shotgun Microphones
Sennheiser Shotgun microphones:
MKH 60,
MKH 416,
MKH 816, ME 66,
ME 80,
ME62
Neumann KMR81IMT long shotgun
Schoeps CMC6U/MK41 combination
K-Tek boom poles & stotgun microphone suspension mounts
Additional Microphones
Tram hard wire microphones (2)
Countryman B6 hard wire microphones (2), great for stationary interviews and hiding when in RF heavy areas
Electro Voice RE50B stick microphones (2)
Stick Microphones (4), Audio Technica
Extra Audio Support Gear
Comtek / AKA Comteck or Comtech – If you're worried about clean audio, don't fear. After a while of listening, the Coms system will be set aside quickly by you after you've been assured you hired a pro like me.
XLR cables, barrels, ground lifters & adapters
Wind Screens for every shotgun mic, lavaliere, tram & stick mic
2 Tentacle Lock-It Box (time code sync)
RF Explorer Scanner & software
Laptops (Mac or PC)
USB 3 card reader
USB-C card reader
Elvid Slate
RF Explorer (scanner)
Laptops in Mac, Linux & PC
FCP X software, Adobe CC, and experience with several other applications for data, as well as, post production
Go back up to the table of contents
Cables, Adapters and Connectors
RED sync cables, including for RED ONE, RED EPIC or other models.
Arri Alexa series Input cable.
XLR cables.
1/4 cables and adapted XLR to 1/4 cables.
mini male cables in mono and stereo.
BNC Cables, and BNC to RCA cables.
4 pin Lemo connectors for mixers and cameras,
5 pin Lemo connectors for mixers & cameras,
Time Code connectors for RED, Arri or for BNC based cameras.
XLR to BNC connectors,
Other cables to connect to any type of camera or digital recorder including for sync time code.
Lighting, Grip equipment and other camera support gear
Aside from ample sound recording/mixing equipment I also haveother camera support equipment to assist you. I can also provide grip equipment packages into my production van including:
MSE grip, including 6 C-Stands, and clamps like Mayfer, ceiling scissors, Cartelinni,
HMI lighting: 200×2, 575 watts
Kino Flo: 2x Diva 400, 2x Diva 200
LED Lighting: 2 600 watt LED lights
Arri Tungsten: 150, 2x 300, 3×650, 2x 1k
Chimeras with Speed Rings
Flags in single, double, and solid in both 18×24, as well, 24×36
4×4 Solid black and reversable white
Frames in 4×4′
Silks in 1/2 & 1/4
Electric cords
Dimmers
Gels for color correction, light reduction or diffusion
Floor Dolly
IGUS Camera Slider
GlideCam
LevelCam
Fig Rig
Tripods: Sachtler 20 III, Manfrotto 516 & 501 heads with legs, as well as spreaders
Panasonic LH1700 Monitor, Elvid 7″ Monitor
Other resources taking the hassle out of your Colorado video, film or television production.
Go back up to the table of contents
Mountain Areas I Provide Location Sound In
Below are map links for your reference on some Colorado areas that I provide location sound mixer / recordist services in.
Colorado Rocky Mountain & Foothill areas
Go back up to the table of contents
Colorado's Foothills
Bordering the Rockies and Sangre De Cristo Mountains are several cities that include:
Golden and into the mountains,
Green Mountain ( a division of Lakewood )
Rye,
As a sound guy, count on my experience here, or referring other crew resources or gear, or where you need solutions in the state.
Go back up to the table of contents
Western Colorado areas & Including the Mountains

As a location sound recordist, I've been through much of western Colorado providing boom operation, sound mixing, and other production expertise as well. Grand Junction is the largest western Colorado area I have worked in on several productions.
Other western areas include:
Go back up to the table of contents
This website details the services of Nick Teti a local Colorado sound recordist, whom is often referred to as a location sound man, a sound guy or audio guy, or a location sound mixer for video, film or television production. I also provide additional services of camera support, including gaffer or grip with lighting & grip equipment as well anywhere in the state.
To book me, please call (720) 299-2084 or (303) 346-2377 or follow the contact page to email. Thanks.